The Bulletin of the Peabody Museum of Natural History, Yale University, in publication since 1925, publishes original research in the disciplines represented by the collections of the Yale Peabody Museum's curatorial divisions.
The Bulletin of the Peabody Museum of Natural History (ISSN 0079-032X; eISSN 2162-4135) is published twice a year, in April and October. Abstracts and full text of the electronic version of articles, beginning with Volume 47 (2006), are available online worldwide to institutional subscribers of BioOne Complete, the full-text database of more than 200 titles from over 150 society and independent publishers in the biological, ecological, and environmental sciences.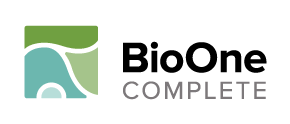 Through BioOne Complete the Bulletin of the Peabody Museum of Natural History is both discoverable in and interlinked with leading academic resources. Bulletin is archived through BioOne's participation in Portico and LOCKSS. In addition, by inclusion in BioOne Complete, Bulletin is available at no cost to more than 2,500 institutions in the developing world through Research4Life. Publication is supported by the Theodore and Ruth Wilmanns Lidz Endowment Fund for Excellence in Scholarly Publications, dedicated to the dissemination of scholarly research and study of the world and its cultures.
How To Place Your Order
You must use our form to place your order. Orders by phone will not be accepted. All orders must be prepaid. For credit card orders, once we receive your completed order form, we will send a confirmation email with instructions for payment through our secure online payment system. Please allow 4 weeks for processing and shipping.
Return Policy
All purchases are final and nonrefundable. Returns are for defective copies only. Claims for replacement copies must be made on receipt and are subject to availability. Contact us in advance for instructions.
Jacques A. Gauthier
Curatorial Editor-in-Chief
Professor of Earth & Planetary Sciences
Curator of Vertebrate Paleontology & Vertebrate Zoology, Reptiles
Derek E.G. Briggs
G. Evelyn Hutchinson Professor of Earth & Planetary Sciences
Curator-in-Charge, Invertebrate Paleontology
Susan H. Butts
Director of Collections and Research, Yale Peabody Museum
Eric J. Sargis
Professor of Anthropology, Ecology & Evolutionary Biology
Curator of Vertebrate Paleontology & Vertebrate Zoology, Mammals
David K. Skelly
Frank R. Oastler Professor of Ecology
Director of the Peabody Museum of Natural History
Curator of Vertebrate Zoology, Amphibians
Mailing address:
Publications Office
Yale Peabody Museum
P.O. Box 208118
New Haven CT 06520-8118 USA