From our iconic 3-building campus at Yale's Science Hill, to a sprawling network of spaces at Yale West Campus, to several unique natural areas, the Yale Peabody Museum's footprint in Connecticut complements our holdings, activities, and research.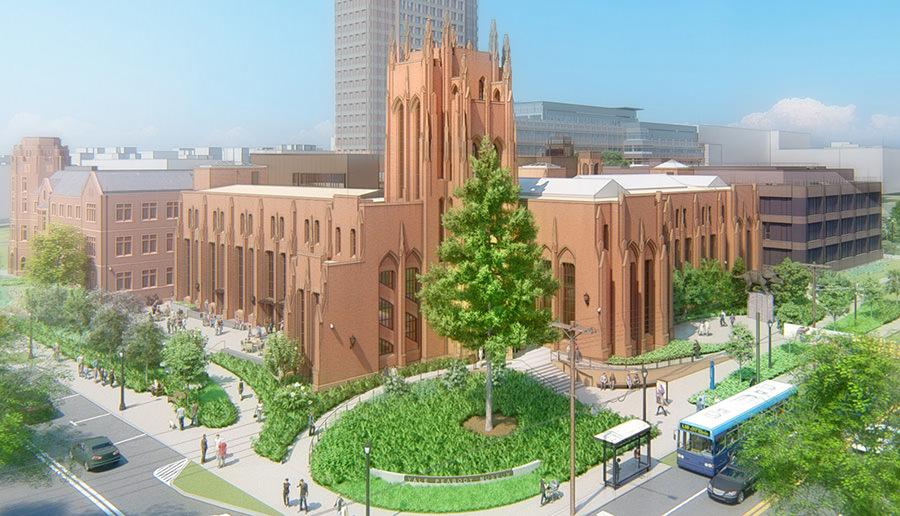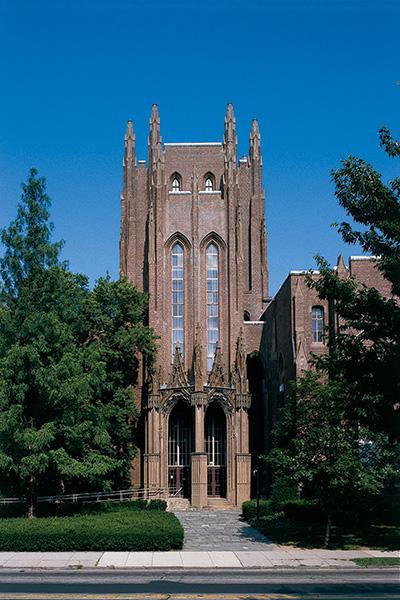 170 Whitney Avenue, New Haven
In 1866 the Peabody Museum of Natural History at Yale University was founded with a gift from George Peabody for the construction of a museum building and the care and increase of the museum and its collections. The first Yale Peabody Museum (1876–1917) was located at the corner of High and Elm Streets in New Haven.
The current French Gothic brick and dark brown sandstone building, dedicated in December 1925, was designed by architect Charles Z. Klauder. Its two-story Great Hall was specifically planned to accommodate O.C. Marsh's dinosaurs, notably Brontosaurus, and also houses The Age of Reptiles, the 110-foot fresco secco mural by Rudolph F. Zallinger (BFA '42), completed in 1947. This building is undergoing a complete renovation designed by Centerbrook Architects.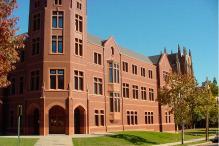 21 Sachem Street, New Haven
Dedicated in 2001, the Class of 1954 Environmental Science Center provides state-of-the-art administrative, classroom, laboratory, and collections space for research in the earth and environmental sciences. Designed by David M. Schwarz Architectural Services, the 3-story brick and limestone building is a modern rendition of the Collegiate Gothic style. The Environmental Science Center connects to both the Yale Peabody Museum and Kline Geology Laboratory and also serves the Yale Institute for Biospheric Studies, the Yale Departments of Ecology & Evolutionary Biology, Earth & Planetary Sciences, and Anthropology, and the Yale School of the Environment.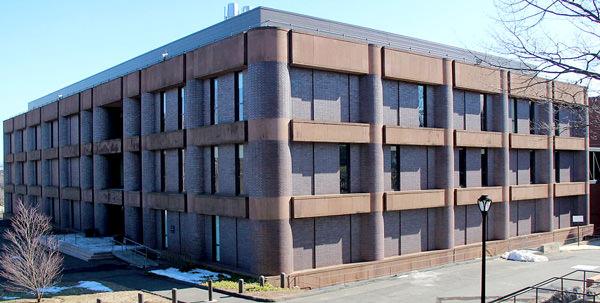 210 Whitney Avenue, New Haven
Designed by Philip Johnson in the modernist style of the early 1960s and named for C. Mahlon Kline (Yale Sheffield Scientific School, 1901 PhB), the Kline Geology Laboratory, constructed of concrete, brick, and sandstone, was completed in 1963. The first of a complex of buildings that became known collectively as the Kline Science Center, the Kline Geology Lab connects to the Yale Peabody Museum and to the Class of 1954 Environmental Science Center.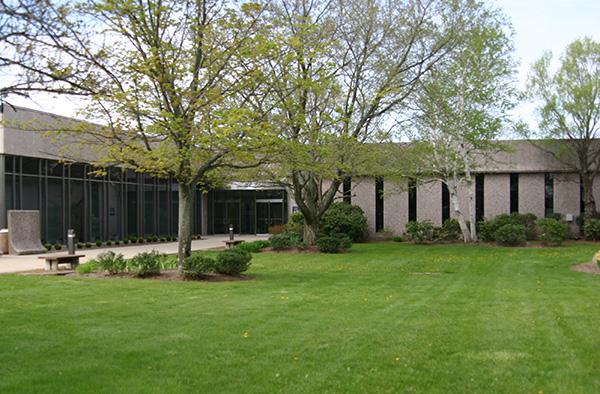 100 West Campus Drive, Orange, Connecticut
Yale's 136-acre West Campus is home to several Yale Peabody Museum research collections, housed in the Collections Study Center, that support faculty, students, and visiting scholars studying biodiversity, global change, and the history of life and civilizations. Located 7 miles (about 11 kilometers) west of downtown New Haven, the 20 buildings of the West Campus property, acquired in 2007, straddle the city of West Haven and the town of Orange.
The Yale Peabody Museum is among the campus departments in Yale's vision to create a collections campus for the conservation and digitization of archives, art, library holdings, and natural history collections, in support of the University's academic programs.
In addition, the Yale Peabody Museum Community Education Center at West Campus offers year-round K–12 science and natural history programs, aligned with Next Generation Science Standards, and include new outdoor life science programs.
Among Yale University's properties are natural lands administered by the Yale Peabody Museum that are open to Yale faculty, affiliates, and students for short-term and long-term research, study, and creative academic pursuits (visual arts, music, writing, etc.) in environmentally protected areas and adjacent to Long Island Sound.
Please note that these areas are not for recreational use. The Yale Outdoor Education Center offers opportunities for outdoor recreation. Outer Island, adjacent to Horse Island, is part of the Stewart B. McKinney Wildlife Refuge, and is open to the public during warmer months.
Thimble Islands, Branford, Connecticut
Horse Island is the largest of Connecticut's Thimble Islands in Long Island Sound. It is 1.5 miles (2.5 kilometers) offshore from Stony Creek in Branford. Habitats on this 17-acre uninhabited island include a mix of coastal and early successional vegetation, with wide rocky intertidal zones. The island is almost completely wooded with small stands of beech, pine, and cedar trees among mixed scrub and hardwoods. There is a house on the property, and a research station designed and built in partnership with the Yale School of Architecture's Regenerative Building Lab, which will be available to the Yale community for teaching, research, study, and art. In order to support responsible stewardship of its ecosystems, Horse Island is not open for recreational visits.
276 Old Quarry Road, Guilford, Connecticut
The Yale Coastal Field Station is the headquarters of the Yale Peabody Museum Natural Areas. It occupies a 1.75-acre site on a deepwater cove on Long Island Sound in Guilford, Connecticut, about 12 miles (about 19 kilometers) east of New Haven. The biological field station includes the Beattie House, outbuildings, and other facilities.
Old Quarry Road, Guilford, Connecticut
Branford and Guilford, Connecticut
This unique property, one of the few natural forest areas left in the state, consists of about 41 acres of marsh and coastal edge forest in the southeastern corner of Branford (with a small portion in Guilford). The gift of Yale Professor Frederic M. Richards, this property's research forest, on an isolated headland adjoining salt marshes and open in part to Long Island Sound, is a mature mixed hardwood forest dominated by oaks, hickories, and sugar maple with a mid-canopy of hop hornbeam. The immediate edge along the marsh has a mix of white oak, post oak, scattered pitch pines, and a few red cedars.
For information on access and use of the natural areas please contact: