The Yale Peabody Museum has a long history of mounting expeditions to the far corners of this world.
Between 1870 and 1873, O.C. Marsh led 4 Yale College Scientific Expeditions of students into the American West. Other land and marine expeditions have added significantly to the holdings of the Museum throughout its history. These major expeditions orchestrated by multiple divisions of the Museum include:
North India Expedition, anthropological as well as biological info (Hutchinson); fossil primates from India (G. Edward Lewis) [Anthropology / Vertebrate Paleontology / Vertebrate Zoology / Invertebrate Zoology]
U.S. Exploring Expedition, the first U.S. based scientific expedition to circumnavigate the globe (Dana) [Anthropology / Vertebrate Zoology / Invertebrate Zoology / Botany ]
Hayden Expeditions of the American West (Dana) [Invertebrate Paleontology]
U.S. Fish Commission (10 years, Verrill) [Vertebrate Zoology / Invertebrate Zoology]
Harriman Alaska Expedition, included John Muir and other founders of the modern conservation movement (W.R. Coe)
Yale Seychelles Expedition (Hartman) [Invertebrate Zoology]
Subscription of Panama (F.H. Bradley, 1866) [Invertebrate Zoology]
New England Seamounts (major repository) [Invertebrate Zoology]
Wilkes Expedition of 1838-1842 (J.D. Dana) [Paleobotany]
Joseph C. Ives Colorado Exploring Expedition of 1857. Cretaceous material collected by J.S. Newberry [Paleobotany]
San Juan Exploring Expedition of 1859 [Paleobotany]
Cretaceous plants collected by Israel Cook Russell, U.S. Geological and Geographic Survey of the 100th Meridian in 1878. [Paleobotany]
Discovery of Deinonychus that led to the warm-blooded theory of dinosaurs (Ostrom) [Vertebrate Paleontology]
primates from Egypt (Elwin Simons); mammals; reptiles [Vertebrate Paleontology / Invertebrate Paleontology]
Three Pawnee oceanographic expeditions, Verrill [Vertebrate Zoology]
Yale South America Expedition, first scientists on site during an El Nino off Peru [Vertebrate Zoology]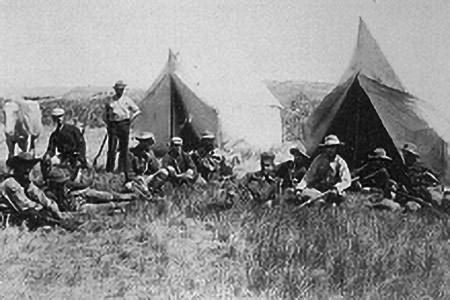 Charles T. Ballard (Yale 1870 S)
Charles Wyllys Betts (Yale 1867, M.A. 1871)
Alexander Hamilton Ewing (Yale 1869)
George Bird Grinnell (Yale 1870, Ph.D. 1880)
John Reed Nicholson (Yale 1870)
Charles McCormick Reeve (Yale 1870)
James Matson Russell (Yale 1870)
Henry Bradford Sargent (Yale 1871 S., M.A. 1907)
James W. Wadsworth (M.A. 1908)
Eli Whitney (Yale 1869, M.A. 1872)
Harry D. Ziegler (Yale 1871 S)
The first Yale College Scientific Expedition set out by rail from New Haven, Connecticut, on June 30, 1870, for North Platte, Nebraska, a short distance from Fort McPherson. O.C. Marsh had a letter of introduction from William Sherman, then Commanding General of the U.S. Army, that would allow access to all Army posts. Their military escort, a troop of the Fifth Cavalry, also included 2 Pawnee guides and 2 Army scouts, one of which was none other than William F. Cody (Buffalo Bill). The other scout was Maj. Frank North, made famous by Robert Bruce's The Fighting Norths and Pawnee Scouts.
During July the party explored the Sand Hill country north and west of Fort McPherson, to the Loup Fork River and then west to its headwaters. From there, they followed Bird Wood Creek south to where it joins the North Fork of the Platte River, then turned east back to North Platte. The results of this first excursion were very promising. Along the bluffs of the Loup Fork they unearthed 6 different species of early horses, 2 kinds of rhinoceroses, and a remarkable assortment of other extinct animals.
On a second outing in August, escorted by 30 men from the Fifth Cavalry, the party explored the region between the North and South Platte Rivers north of Cheyenne, Wyoming, discovering fossil turtles, rhinoceroses, and oreodonts, a few birds and rodents and, most importantly, the remains of several brontotheres.
By far their most important excursion was in September, leaving from Fort Bridger with an escort from the Thirteenth Infantry. They followed a circuitous route and followed the Green River to reach an unexplored area at the juncture of the Green and White Rivers. Here they found an abundance of fossils.
After a few weeks of sightseeing in Salt Lake City and San Francisco, the crew returned to Green River, Wyoming, and collected fossil fishes and insects. On the advice of some Army officers, Marsh led his group to Fort Wallace to explore Cretaceous beds along the Smoky Hill River in western Kansas. There they had Thanksgiving dinner in the field after coyotes had driven off their mules. In addition to the many mosasaur remains discovered, on this last leg of the expedition Marsh made a remarkable find—a wing-finger of a pterosaur.
The party returned to New Haven on December 18, 1870. According to Marsh's biographers, the publicity received from the expedition focused attention on the burgeoning "market for fossil vertebrates and on Professor Marsh himself as the most active figure in that market."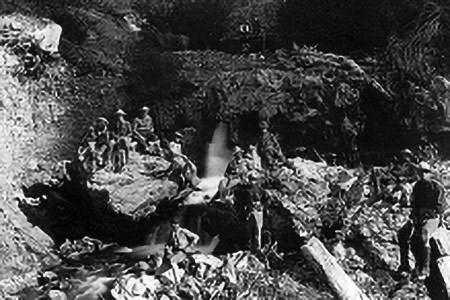 John Jay DuBois  (Yale 1867, M.A. 1872)
Oscar Harger (Yale 1868)
George M. Keasbey (Yale 1871 S)
George G. Lobdell, Jr. (Yale 1871 S)
Alfred Bishop Mason (Yale 1871, M.A.1874)
Frederick Mead (Yale 1871, M.A. 1874)
Joseph French Page (Yale 1871)
Theodore Gordon Peck (Yale 1871, M.A. 1893)
John F. Quigley (Yale 1871 S)
Harry D. Ziegler (Yale 1871 S)
The second Yale College Scientific Expedition went immediately to Fort Wallace, Kansas, in hopes of finding more of the pterosaur that had been recovered the year before in the Cretaceous chalk of the Smoky Hill River area of western Kansas. They were not disappointed. Setting out on July 2, 1871 with 5 army wagons and the usual army escort, O.C. Marsh retraced his steps after setting up camp. They not only recovered more of the same specimen, but several others.
After a month of rest in Denver, the party headed to Cheyenne and reached Fort Bridger on August 22. On a 6-week exploration of the Green River Basin they collected 11 boxes of material. After a break in Salt Lake City, the party moved on to the John Day Basin in Oregon, reaching Canyon City, Oregon, on October 17. They spent only a couple of weeks there before winter brought their collecting to a halt. The party split up after reaching Portland, Oregon. Some accompanied Marsh by steamer to San Francisco, while a smaller group started back overland. The San Francisco group split up again, some returning by rail and others returning with Marsh by ship via Panama. Marsh and his small entourage arrived back in New Haven on January 14, 1872.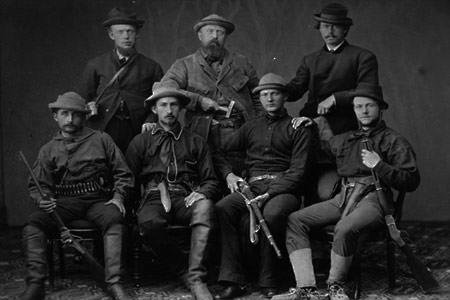 Benjamin Hoppin (Yale 1872)
Thomas H. Russell (Yale 1872 S, M.D. 1875)
Charles D. Hill
James MacNaughton
The third Yale College Scientific Expedition was the smallest of the 4 student expeditions that O.C. Marsh took into the field. The plan of attack was to work the Cretaceous chalk around Fort Wallace, Kansas, and then later move base of operations to Wyoming. An Army escort was secured before the party set out that summer.
The early portion of the field season, in Kansas, was especially successful. Specimens of both toothed birds Hesperornis and Ichthyornis were discovered. Marsh sent a copy of his 1880 publication of this early evidence of the true origin of birds to Charles Darwin, who in a letter responded that Marsh's work "has afforded the best support to the theory of evolution, which has appeared within the last 20 years."
The rest of the field season, in Wyoming, was not as fruitful. The party was escorted by the Ninth Infantry from Fort D.A. Russell. Little information is available about this part of the expedition, but the Peabody's accession ledger records that the Museum received from the expedition "Tertiary fossils" from the Green River Basin.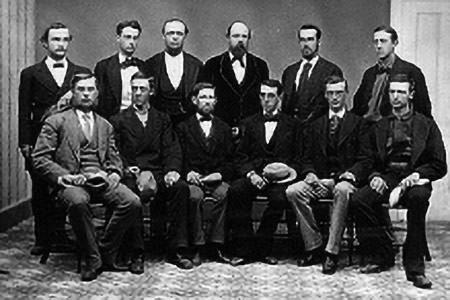 William Constantine Beecher (Yale 1872)
Henry Grant Cheney, ex-1875 S)
Clark Dewing (Yale 1874)
Henry W. Farnam (Yale 1874, M.A. 1876)
Oscar Harger (Yale 1868)
David H. Huntington (Yale 1873)
H. Evelyn Knight (Yale 1871)
C.G. Knox (Yale 1873)
William Mayo Newhall (Yale 1876 S)
Henry A. Oaks (Yale 1875)
T. Mitchell Prudden (Yale 1872, M.D. 1875, LL.D. 1897)
A.B. Waring
Frederick S. Wicks (Yale 1873)
The fourth and last of the Yale College Student Expeditions was outfitted at Fort McPherson on the North Platte River in Nebraska. The party left on June 12, 1872 escorted by 2 companies of the Third Cavalry, a supporting column of the Eighth Cavalry, and 2 guides. These guides were Ed Lane, who had served in this capacity the previous year, and Hank Clifford, who later collected for O.C. Marsh for several years, and who married the daughter of Chief Red Cloud.
The expedition spent a month collecting primarily in the Miocene of north central Nebraska. After their return to Fort McPherson, the expedition moved on to Fort Bridger and spent a week and a half collecting Eocene material. After a short rest in Salt Lake City, some continued to the John Day Basin, where they collected for several weeks. Continuing down the Columbia River, they eventually caught a steamer to San Francisco and headed back east overland, stopping briefly in Kansas to collect. According to Marsh's biographers, this expedition collected 5 tons of fossils, and other material, for the Yale Peabody Museum.