The Yale Peabody Museum was founded in 1866 with a visionary gift of $150,000 from philanthropist George Peabody. Since that time, our collection has grown to over 14 million specimens and we continue to be a site for new discoveries and scientific exploration. The achievements of this Museum are a testament to Peabody and the generations of philanthropic leaders who came after him. The investment of our community of benefactors continues to sustain this Museum and makes all of the work we do possible.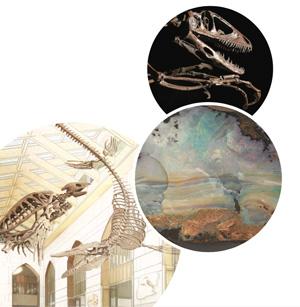 The 1866 Society honors and celebrates the most generous donors to the Yale Peabody Museum's Annual Fund. Unrestricted gifts at every level enhance the research, exhibitions, and student experiences at the Peabody. Members of the 1866 Society are recognized through invitations to our O.C. Marsh Evening Lecture Series, special Director's events and dinners, opportunities for exclusive collection tours, and inclusion in our Honor Roll of Donors.
Here are just a few examples of how 1866 Society gifts make a difference at the Peabody:
Gifts of $1,500 to $2,499
Enable Yale faculty and students to access the Peabody's vast collections of fossils, specimens, and cultural holdings to support academic teaching and research. Support community outreach efforts like Peabody on the Road and Teacher Workshops.
Gifts of $2,500 to $4,999
Develop multiple exhibitions each year featuring treasures from the Peabody and wonders of natural history from around the world. Provide crucial funds for our free public events, like ¡Fiesta Latina! and our annual MLK Day Festival, which welcome over 10,000 children and adults into the Museum each year.
Gifts of $5,000 to $9,999
Underwrite essential research and internship opportunities in the Peabody's 10 scientific divisions engaged in groundbreaking studies of ancient cultures, climate change, and global biodiversity. Invest in education and college preparation for local high school students participating in our EVOLUTIONS Afterschool Program.
Gifts of $10,000+
Support new discoveries and global exploration through fieldwork, including fossil digs, research studies, and collecting trips. Take a leadership role in maintaining the heart of the Museum through the cataloging, conservation, and preservation of more than 14 million specimens.
Please consider joining the 1866 Society with a gift of $1,500 or more. Your leadership support directly enhances the Museum's capacity to educate, explore, and inspire.