Mangrove Habitat
There are only a handful of areas left on Earth preserved to protect ecosystems and their inhabitants. Although 15% of land is included in the global protected area network, a third of this area is affected by intensive human activity, such as hunting, and by habitat loss, climate change, and more, that rapidly increase the number of endangered species. Only about 25% of mangrove ecosystems are globally protected, putting many obligate and reliant inhabitants at risk of extinction. Obligate species are restricted to a particular condition of life; for example, dependent on a specific habitat to be able to survive. The vulnerable species I selected for this painting represent the percentage of their protected habitat. The remaining 75% of unprotected mangroves are shown reduced to bone.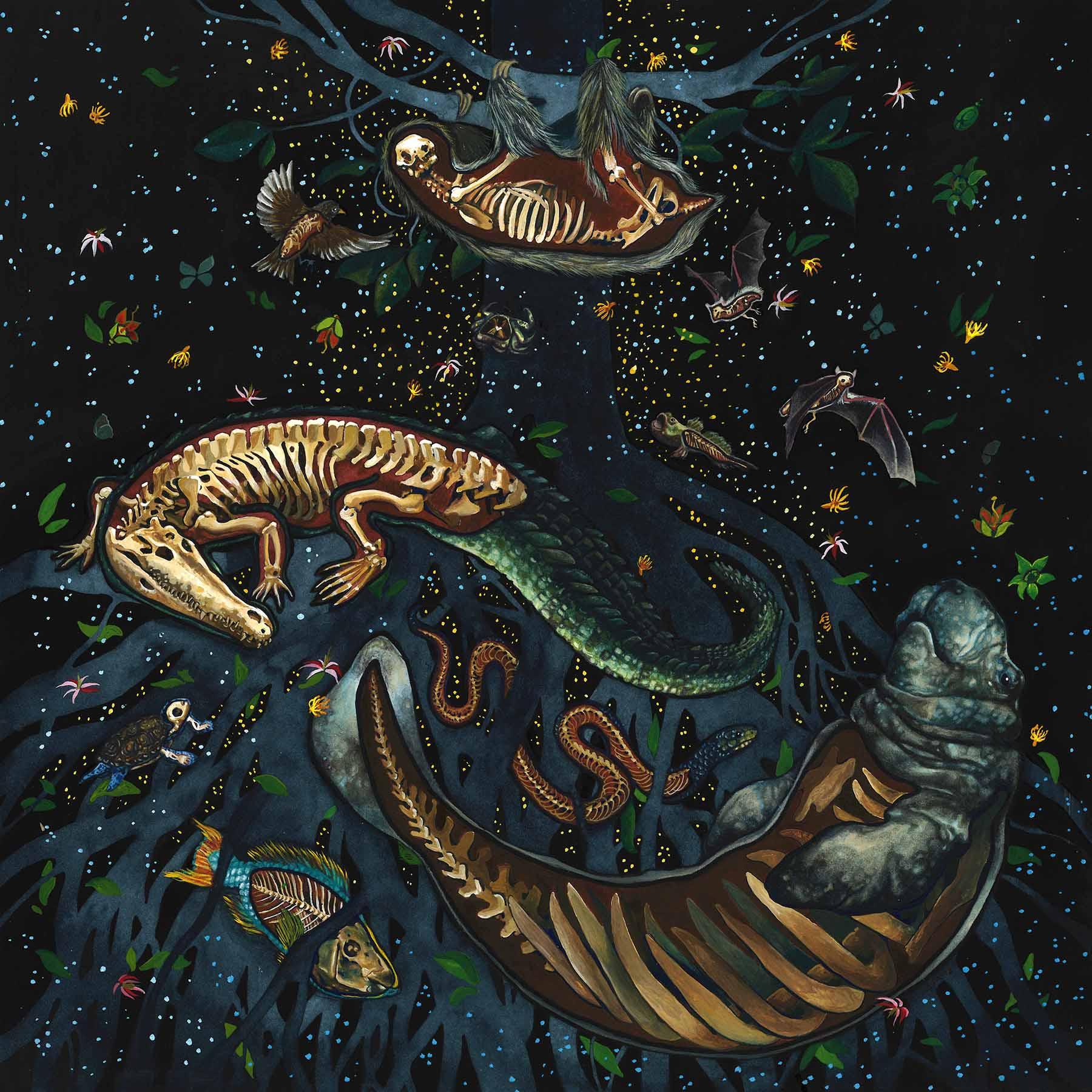 Creating Mangrove Habitat
This painting was inspired by research in an article in Science by Kendall R. Jones and others, which explains how even protected biomes are influenced by intensive human activity and pressures. 
The Yale Peabody Museum of Natural History was an invaluable resource for me for reference material to bring this painting to life. My discussions with the Peabody's experts helped me select the best obligate species to depict in my painting. 
When searching for reptile and fish species to show in mangrove habitat areas, I reached out to Greg Watkins-Colwell, Herpetology and Ichthyology Collections Manager, in the Peabody's Division of Vertebrate Zoology. Greg recommended I include the mangrove terrapin, as well as a species of mudskipper. He also suggested I contact Eric Lazo-Wasem, Senior Collections Manager, in the Peabody's Division of Invertebrate Zoology, who could help me identify invertebrate species for my project.
 
Diamondback Terrapin (Malaclemys terrapin)
Eastern Indigo Snake (Drymarchon corais couperi)
American Crocodile (Crocodylus acutus)
Like Greg, Eric was extremely helpful. He suggested I look at sesarmid crabs, which he believes to be the most characteristic invertebrate of mangrove habitats. He pointed me to the Smithsonian Marine Station at Fort Pierce in Florida, and information there about the Mangrove Tree Crab (Aratus pisonii), which lives in the canopy, and is iconic of mangroves. Eric named many other invertebrates in mangrove communities: fiddler crabs, upside down jellyfish, and a colorful garden of sponges. However, these all can be found elsewhere, and there are few true obligate species.
I found reference material in great books like Simon Winchesters' Skulls: An Exploration of Alan Dudley's Curious Collection (Black Dog & Leventhal Publishers, 2012), and Steve Huskey's The Skeleton Revealed: An Illustrated Tour of the Vertebrates (Johns Hopkins University Press, 2017).
I spent time sketching specimens in the Yale Peabody Museum collections. 
MorphoSource is another great resource that the Yale Peabody Museum contributes to. MorphoSource is a digital repository where researchers, museum curators, and anyone else can find, download, and upload 3D media of physical objects, most commonly biological specimens.
Before I even began painting, creating Mangrove Habitat depended on hours of research online, in museum collections, and reaching out to experts. Without access to natural history museums, or the knowledge of how to approach and use their collections, this painting would not be possible. 
I started by building a digital photo collage on Photoshop to help map out my composition. I stitched these images together to create what I like to call a "Frankenstein Mock Up". Each animal is made up of several different photos stitched together like Frankenstein's monster, in order to create the position, lighting, and angles I want. 
I love being able to expand, shrink, or rearrange these elements to find the best composition. I prefer this to sketching thumbnails. 
Then the drawing and painting begins.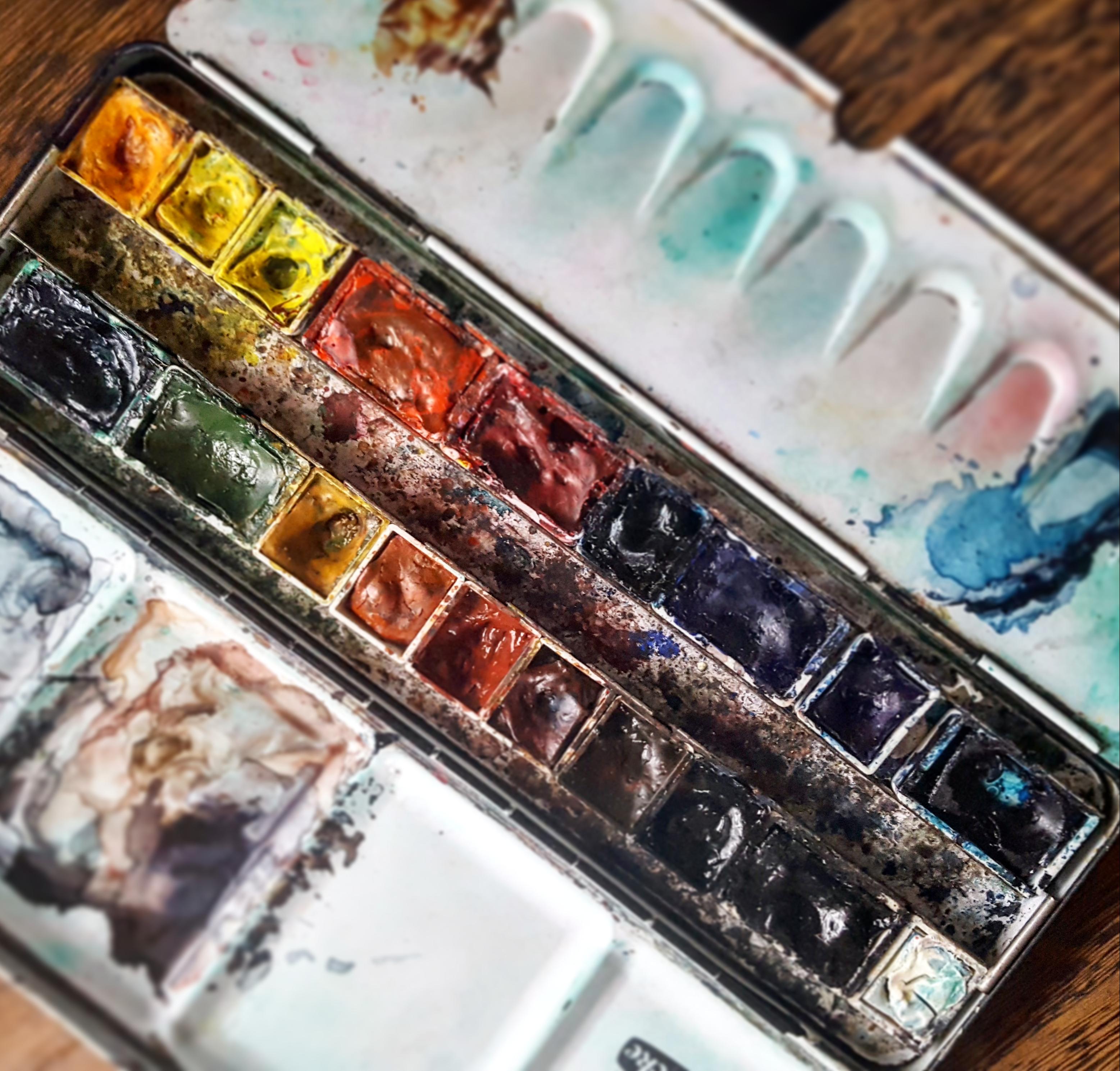 Mangrove Habitat
Bayla Arietta
Watercolor and gouache
10 inches x10 inches (25.4 cm x 25.4 cm)
2018